Rice cookers with stainless steel pots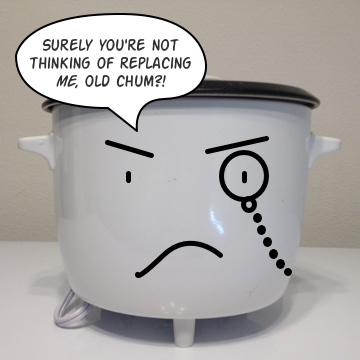 I decided that my current rice cooker, whom I refer to as Sir Cooker T. Teflonflakes, was due for a replacement when his nonstick lining started flaking away.
Looking at replacement options, I concluded that cookers with an uncoated stainless steel pot are probably the safest option with regards to leaching, especially compared to the standard nonstick-coated aluminum. There's still a theoretical risk nickel and chromium leaching, but I think that should only be significant with acidic sauces.
There's not a lot of options with stainless steel pots, but one looks perfect for my use:
Model I'm buying: Aroma Simply Stainless
Aroma Simply Stainless
Notes:
This model is fairly inexpensive, available in any common size, and has better reviews overall than the other stainless steel cookers.
It uses a completely stainless steel pot, 304 "surgical grade" (basically just a common, corrosion-resistant form).
Replacement parts are reasonably priced, unlike many other brands.
Other stainless steel options
Aroma NutriWare
I suspect the NutriWare has the same cooking pot quality as the cheaper Simply Stainless model. It has slightly lower Amazon ratings, but could be useful if you prefer the custom digital settings.
Lotus Stainless Steel
Lotus' rice cooker is frequently resold by other health-oriented companies like Healthy Traditions and Dr Clark Store. I think the product is identical regardless of the seller/branding.
I'm guessing the stainless steel pot is comparable to the Aroma Simply Stainless product. The Aroma is also less expensive at a comparable size, and has slightly higher Amazon ratings, so I don't see a reason to choose this one.
Miracle ME81 Stainless Steel
Pictures of the ME81 look indistinguishable from the Lotus product, so I suspect they're just rebrands from an identical manufacturer. The pricing and included accessories support this idea. This product also shows up under the SamsonGreen brand.
Oyama CFS-B12U Stainless Steel
The Oyama looks like a good, well-reviewed option. However, it's significantly more expensive than the Aroma Simply Stainless.
Tatung Stainless Steel
Tatung is fun to say, and they have a rice cooker with a stainless steel pot, but I haven't been able to find much information on it. The Amazon reviews are mixed (especially given the price), and suggest that the manufacturing may have dropped in quality recently.
Other alternative rice cookers
Here are some other types of rice cooker pots that avoid nonstick coatings. I don't think these have much benefit above stainless steel unless you have a particular purpose in mind:
Uncoated clay pot
The Vitaclay cooker has an unglazed clay pot, apparently tested for heavy metals. I don't know of any other cookers with this type of pot.
Ceramic pot
The Hannex RCTJ200S is the only rice cooker I've found with a ceramic pot. It's well-reviewed, but expensive.
Titanium coated pot
The Sanyo ECJ-D55S appears to have been discontinued, but might still be available in some places. It uses a titanium coating on its pot.
Binchotan (charcoal) coated pot
There are a few Panasonic rice cooker models using a type of charcoal called Binchotan in the pot. It's supposed to absorb undesirable tastes while cooking, but I would think the charcoal would quickly reach its capacity for absorption with frequent use.