Retinol (vitamin A) acetate/palmitate liquids with the fewest additives
I've been frequently asked about replacements for NutriSorb A after it ran into production problems, but haven't had a good answer until recently. Now I know of two products that I think make good replacements. Both are liquids, which is a good way to supplement vitamin A for two reasons:
It's easy to apply topically.
There's generally fewer excipients in both number and volume (the equivalent capsules are much larger than the typical liquid dose of a drop or two).
Both supplements are retinol esters. You can choose between retinyl acetate (also called retinol acetate) or retinyl palmitate (also called retinol palmitate), the form that was used in NutriSorb. I think either one is a good choice.
Recommended for a pure, economical, oil-based retinyl palmitate liquid:
Notes:
Available at 2,500IU or 15,000IU per drop, with approximately 900 or 1,430 drops per bottle, respectively.
All ingredients:
Retinyl palmitate, MCT (medium chain triglycerides) from coconut oil.
Recommended as purest retinyl acetate in an ethanol solution:
The ethanol solution should be particularly good for topical application.
Notes:
2,400IU per drop, approximately 340 drops per bottle.
All ingredients:
Retinyl acetate, ethanol (20%), distilled water.
In the UK?
BioCare has a good retinyl palmitate option. However, it's no longer listed on their web site, so I suspect it's being discontinued. It's still available on Amazon and a store called Nutrition Centre at the time of this writing.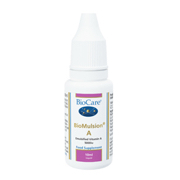 BioCare Bio-A
Available on nutritioncentre.co.uk
Notes:
5,000IU per drop. BioCare told me that there are 545 drops per 15 ml bottle.
All ingredients:
Extra virgin olive oil, vitamin A (as retinyl palmitate), antioxidant (DL-alpha-tocopherol).