Resources for avoiding toxins
Here are some of the resources I think are helpful in addition to this site.
Learning more about what brands to purchase
US regional issues
For the city you live in (or are considering moving to), check:
Find local farms and farmer's markets with Local Harvest and EatWild.
Find a local source for spring water with Find a Spring.
Find out what produce is currently in season with RipeTrack.
Get up-to-date urban air quality reports with Plume Labs.
Getting US products outside the US
If a product you want only ships to US addresses, you can use a service that provides you a US address and then forwards received packages to you. The most popular are Reship.com and MyUS.com, but Philip in the comments below has suggested ViaBox for cheaper shipping and more reliability.
For supplements, iHerb offers reasonably-priced international shipping.
Country-specific guides
UK
Germany
Making your own supplements and household products
Here is a picture of a creepy jack-o'-lantern I made (in case you need one)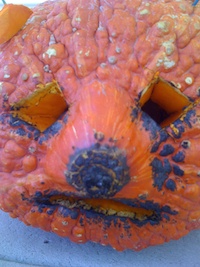 Other issues
Dental fillings
EMFs
VOCs (volatile organic compounds) that can be "off-gassed" by household products
Researching food, supplement, and medication ingredients
For a combined search of those four sites, enter the ingredient you're curious about here:
This thesis involving a possible "blending" action of small fibers/particles is a fascinating idea.
Learning more about the effects of a supplement
Examine.com summarizes and rates studies about a wide variety of supplements.
CureTogether compiles survey data on how well various treatments (supplements, medications, and lifestyle changes) address people's health conditions. It's well worth the free registration if you have a common health complaint, and you can help improve their data by answering their survey questions.
Earth Clinic has compilations of people's experiences with different supplements and home remedies for various health conditions. You can search by the health condition or the remedy.
For a combined search of those three sites, enter the supplement you're curious about here:
Avoiding worrying too much about this health stuff
Eat Something Sweet is an entertaining story that touches on the perils of health neuroticism. I enjoyed and recommend it.