Natural progesterone supplement sources
Here are the low-excipient natural progesterone supplements that I am aware of. Please leave a comment if you know of other sources, have feedback about any of the suppliers, or just have suggestions on improving the page.
Simply Progesterone seems like a good default choice to me.
Simply Progesterone
Ingredients
Sources
Cost: around $8.51 per gram of progesterone with Simply Progesterone, $16.41 with Simply Progesterone Clear.
Progest-E
Ingredients
Yam-derived USP progesterone, vitamin E as d-alpha tocopherol and/or mixed tocopherols, vegetable triglycerides (from olive or coconut).
There may have been an issue with the manufacturer or one of the suppliers recently, so be sure to monitor the taste of the oil.
Sources
Cost: typically around $11.40 per gram of progesterone.
Shipping from the US
Shipping from the UK
Progestene
Ingredients
Yam-derived USP Progesterone, DMSO, 20% ethanol.
Progestene is intended for external use only.
Sources
Cost: $41.65 per gram of progesterone.
Progestene is only available directly from IdeaLabs. It ships internationally from the US.
Progestelle
Ingredients
Yam-derived USP progesterone, coconut oil.
There is a theory that Dr. Peter Eckhart of Women's Therapeutic Institute (makers of Progestelle) is actually some kind of marketing pseudonym. I have no idea if that's true, but I choose to imagine that this is his work uniform: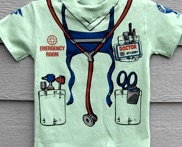 Update: see the comment below for more information on Dr. Eckhart's credentials / identity.
Sources
Cost: $30.00 per gram of progesterone.
Testing progesterone levels
I haven't heard one way or another whether it's useful to track your progesterone with bloodwork, but I've compiled a list of progesterone blood test providers if you're curious to know your levels. It runs in the $50-$200 range depending on which company you order the test from.